Fully Automatic High Quality PP Spunbond S Non Woven Fabric Machine Fabric Making Machine
| | |
| --- | --- |
| Fabric width | 1600mm(Availed width) |
| Maximum winding diameter | Φ1500MM |
| Capacity | According70 g/㎡,9-10t/24h |
| Monofilament size | <2.5d |
1.Company Profile: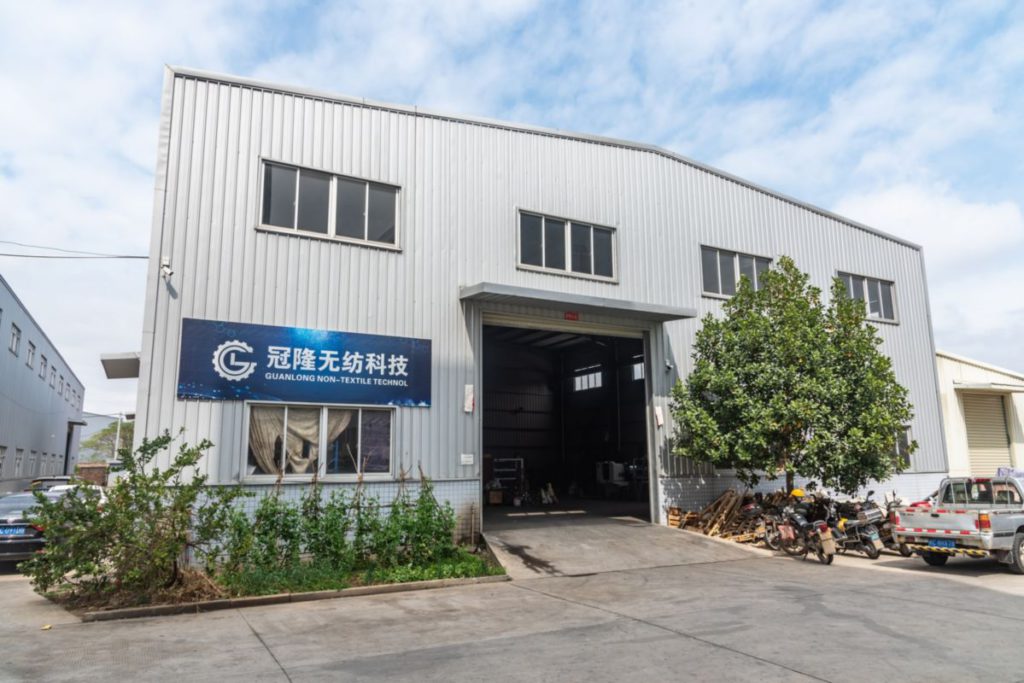 Guanlong Non-textile Technol Co., Ltd. is one professional manufacturer of PP Spunbond Nonwoven fabric production line Fujian Province.Our group was established in 2005, involved in the field of nonwoven machine, nonwoven fabric, medical supplies, etc. We are providing high-quality products and excellent services for global users.
We are specialized in manufacturings(Spunbond), M(Meltblown), SS, SXS, SSS, SMS,SSMS,SMMS,SSMMS,etc. Type PP(polypropylene) Spunbond & Melt blown Nonwoven Production line.We also produce the standard PP Spunbond Nonwoven fabric.All our products are passed the CE, ISO and SGS.
Our company occupies more than 2,000 acres and has more than 60 professional skilled workers.We offer professional engineer support, high efficiency after service and competitive price superiority,and attract customers from all over the world, we export to over 20 countries, including India, Vietnam, Bangladesh, Indonesia and the Middle East.
We are reliable supplier of the customers with 1 years warranty. We can offer best quality machine with innovative ideas and excellent after service to meet your requirements.We are looking forward to get more cooperation.
Welcome!!
2.Product details
2-1:Main Technology data
1.Fabric width:1600mm(Availed width)
2.Maximum winding diameter:Φ1500MM
3.Capacity:According70 g/㎡,9-10t/24h
4.Monofilament size:<2.5d
5.Fabric weight:10~200 g/㎡
6.Designed speed:150M/MIN ;(Working speed:130 M/MIN)
7.Equipment size:length 15 *width10* height 11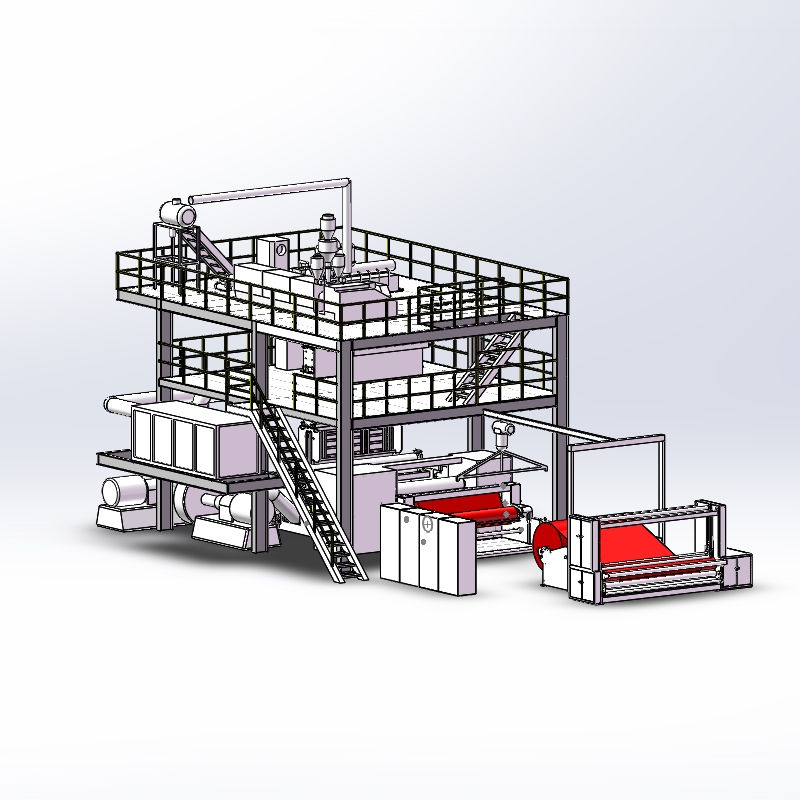 The following word will introduce the features of S Spunbond Nonwoven Machine:
1. S Spunbond Nonwoven Machine adopts an intelligent electrical control cabinet and spinning drafting system. The system controlling mode features in advanced AC frequency-modulated speed, fully digital synchronized communications.
2. S Spunbond Nonwoven Machine is featured by lower investment, compact construction, small covering area, and labor-saving.
3. S Spunbond Nonwoven Machine is a single-beam professional manufacturer of single-layer nonwoven fabric equipment which is manufactured for PP/PET/PLA/Bi-Component Spunbond nonwoven fabrics' production. After the raw materials input, undergo the process of extrusion, spinning, quenching, closure air stretching, web formation, calendaring, winding and cutting as per requirements and then packed for storage and delivery.
4. As the fabrics have great intensity, good breath-ability, and good feeling, they are widely used for various fields such as home decoration, furniture covers, clothing shoe leather, industrial and agricultural protective covers, medical and sanitary supplies, beauty products and so on.
2-3 Technical Parameter
3.Main parts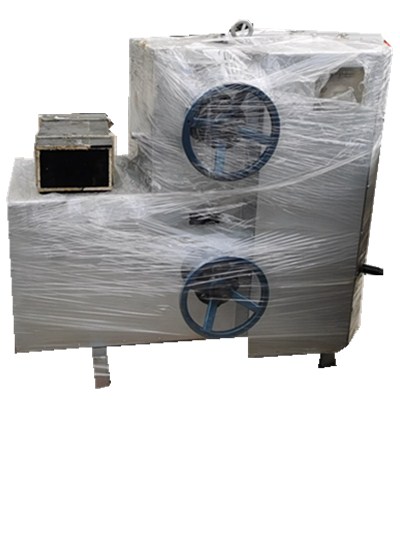 1.Maximum working pressure: 16MPa
2.Maximum working temperature: 310℃
3.Single cylinder filter area: 0.5-19㎡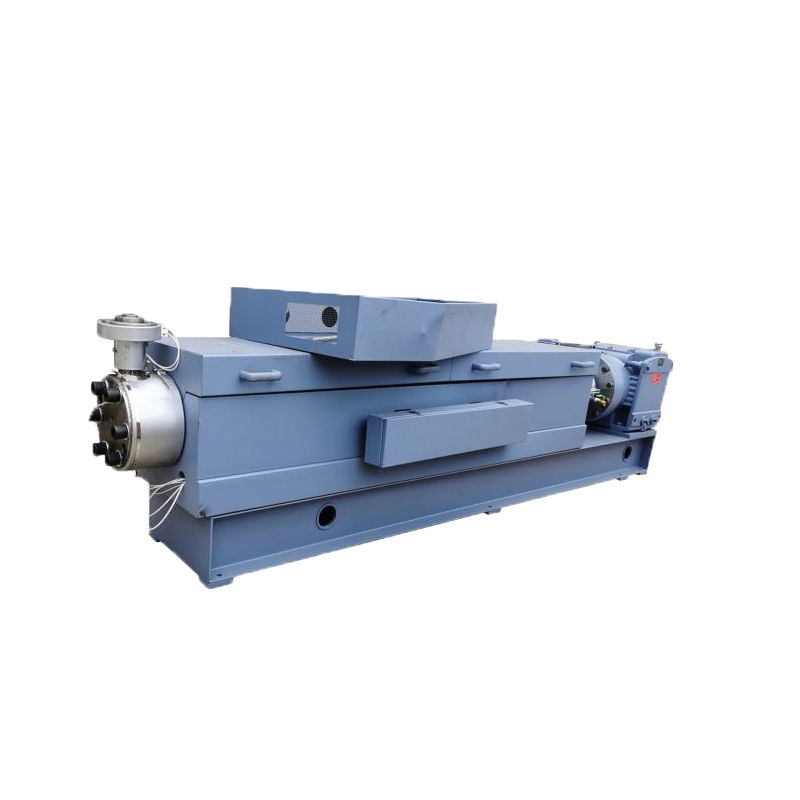 1. Aspect ratio L/D=30:1.
2.Screw diameter: Φ150mm
3.Siemens Bede AC motor 110kw, Fuji frequency controller
4.The spiral cylinder and screw are made of high-strength nitriding steel, equipped with resistance heater, divided into several heating zones, including a full set of electrical control devices, including power, temperature control, pressure control, etc. see the plasticizing capacity of electric control part for details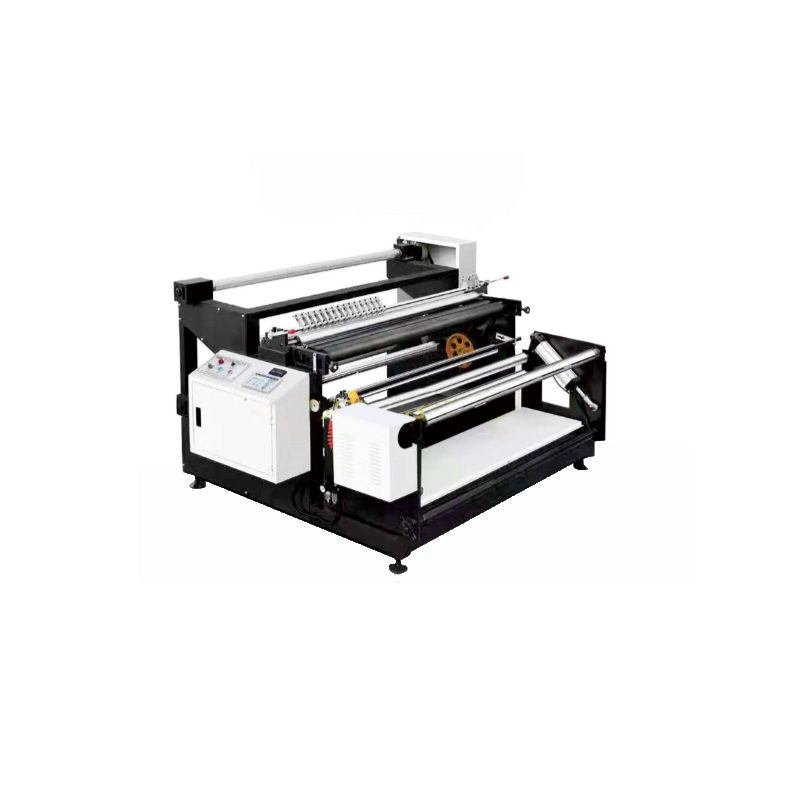 1.The main driving roller is made of seamless steel tube
2.Cutting speed:800-1000m/min
3. Siemens Bede AC motor, 15kw * 1 set, Fuji variable frequency controller of Japan
4.Minimum cutting width: 100 mm
5.Maximum winding diameter: 1000mm
6.Number of slitting knives 16 sets
7. 3 carbon fiber gas expansion shafts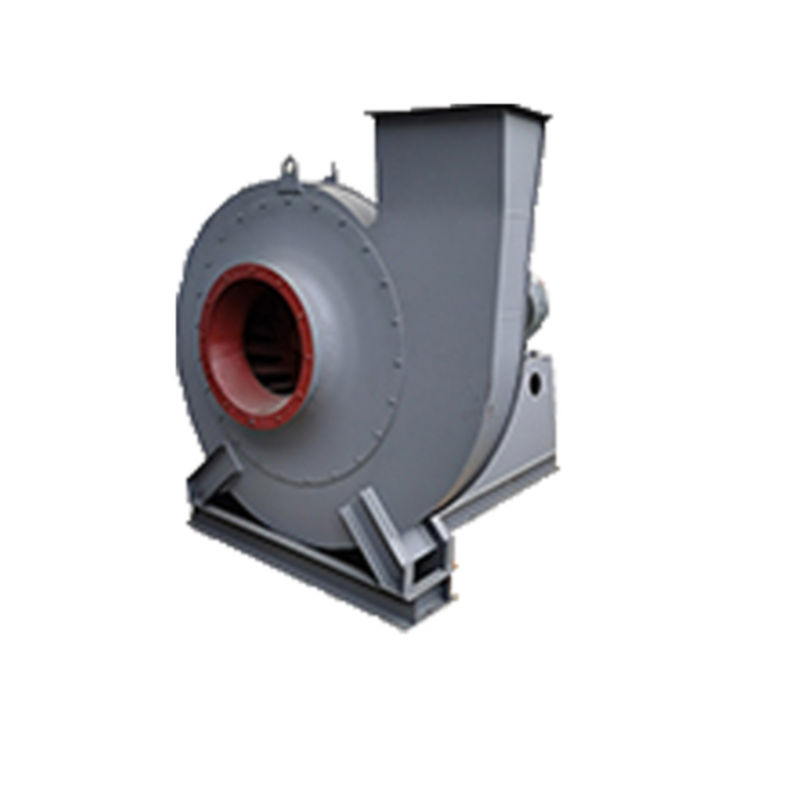 1.The speed of exhaust fan is adjustable2.Accessories: GD-SM-SO2 static mixer
3.Total air volume: 15000-23000 m³/ h
4.Air pressure regulator: Fuji Inverter(RKC-F900)
5.The fan power is 75KW * 1 set, 90kW * 1 set, including the exhaust pipe,and the suction air is discharged to the outdoor
6. The power of cold air fan is 75kw, 2sets, Siemens Bede motor is adopted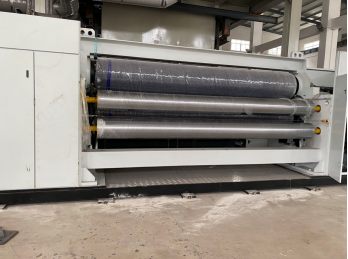 1.Power:45KW AC Motor
2.Heating: Oil Heating
4.Application
NONWOVENS APPLICATIONS
Guanlong Nonwoven lines are designed and manufactured in accordance with individual customer requirements. Their possible area of application is correspondingly wide.
Such as :
PACKAG – Shopping bag, Rice Packaging, Clothes packaging, etc.
HYGIENE – Baby and adult diapers, Female hygiene, etc.
MEDICAL – Surgeon's masks, Disposable garments, etc.
FURNITURE – Beds Cover, Seatings Cover, etc.
TECHNICAL – Geotextiles, Agriculture, etc.
FILTRATION – Air, Gas, Liquids, etc.
5.production process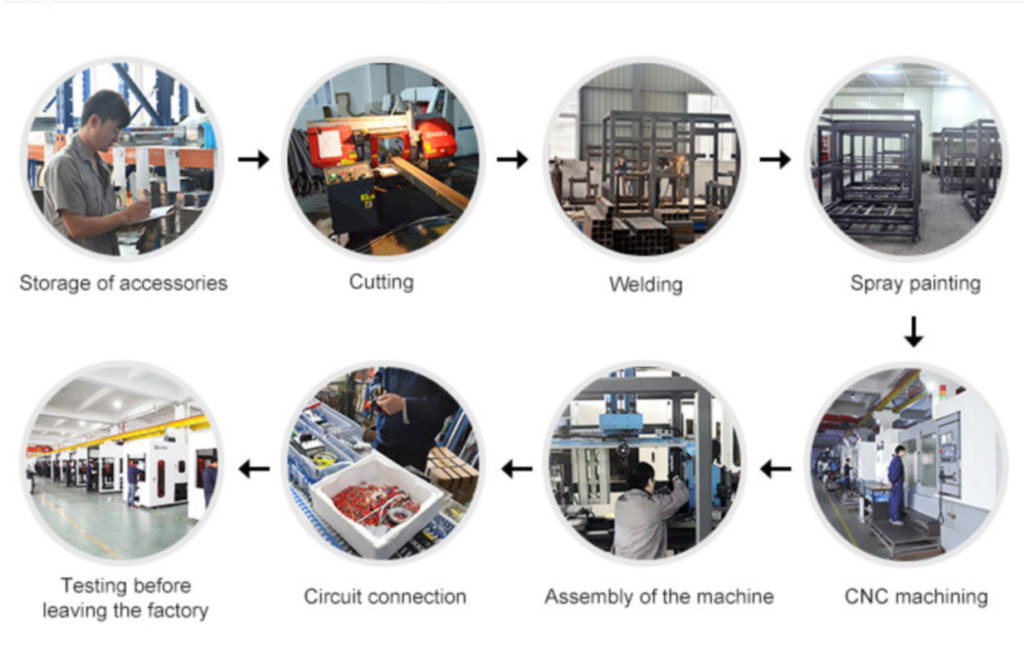 6.our service
1.12 Hours—-We will give you reply within 12 hours.
2.Pre-sale service—-We provide your professional service in fluent English.
3.Delivery—-1~3 months.
4.Free Design—-Professional engineers, free designs.
5.Certificates—-The third-party verification service provider.
6.After sales service—-OEM service provide; Design service provide; Buyer label provided.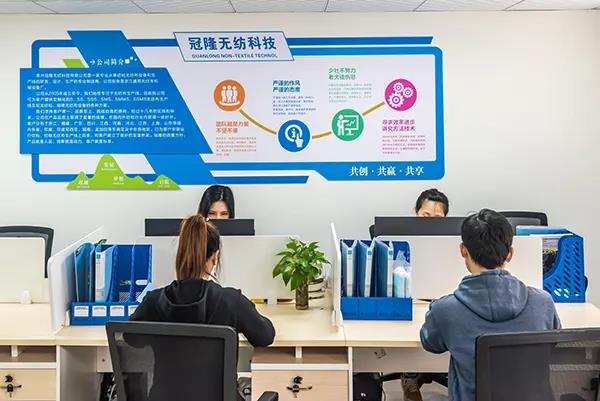 7.Packing & Shipping
Standard export packaging:
1. Apply anti-rust oil to the equipmenteasy rustypart and carry out anti-rust treatment.
2. The whole machine was wrapped with stretch film for protection,and the equipment control cabinet and other components are protected against shock with packaging materials like XPS foam board and EPE foam sheet.
3. Reinforceeasy-movepart of the equipment.
4. Put desiccant before packaging to avoid rusting equipment during sea transportation.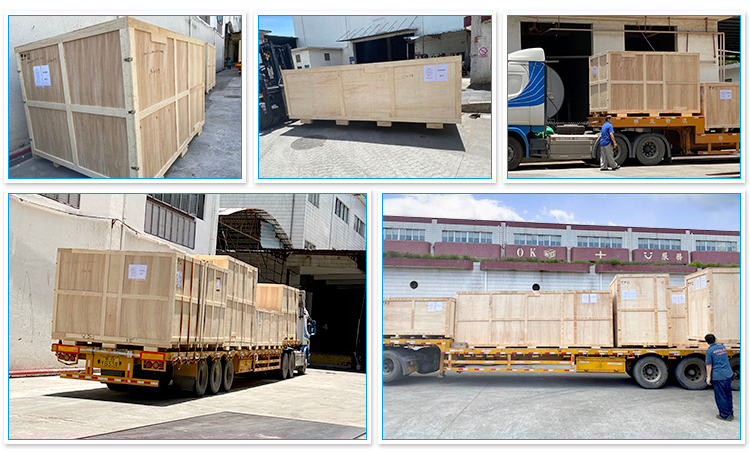 8.FAQ
Q1:What's your warranty policy?
A1:The Seller will guarantee the machine for 18 months since the date of shipment(that is leaving from Seller's factory) or the seller will guarantee the machine for 12 months since the date of starting installation and adjustment, whichever comes first.
Q2:What's your minimum order quantity?
A2:Min order quantity:1 set or by negotiate with each other.
Q3:What package do you use for the product?
A3: Be Coated with anti-corrosion oil, and covered with plastic film, then packed in wooden box.
Q4:Do you have technical instruction if I buy your product?
A4:Please read the user manual carefully for your reference, we have detail instruction on it. If your problems still can not be solved, welcome to contact us for help.
Q5:What is your overseas service?
A5:We will provide high quality overseas service ,our technical staff will be able to provide you with technical support, for you personally to overseas assembly and test equipment.
Q6:Will you conduct training for our staff here?
A6:Yes, we will provide technology support to factory technology, training for the relative person.
Q7:What are your terms of payment?
A7:We accept T/T, L/C.